Goals
Understand why how logic is represented in computer
Can use NOT (including Double NOT), AND, OR, NAND, NOR, XOR
Understand how logic is used in actual program
Vocabulary
statement
question
True/False
NOT
AND/OR
NAND/NOR/XOR
Play Mystery Animal Game
Go to website or using Google Home and play the game.
This is an example of computer logic and Google Home and is powered by machine learning and AI.
Computer Logic
Using questions in the Mystery Animal Questions, we introduced the concept of statements and their results (True or False). Examples we used were "The earth is round" (True) and "Tokyo is in USA" (False).
The words belong to True are: 1, Yes, right and はい. The words belong to False are: 0, No, wrong and いいえ
Logic Frineds
We are introduced four personified characters each relating to computer logic.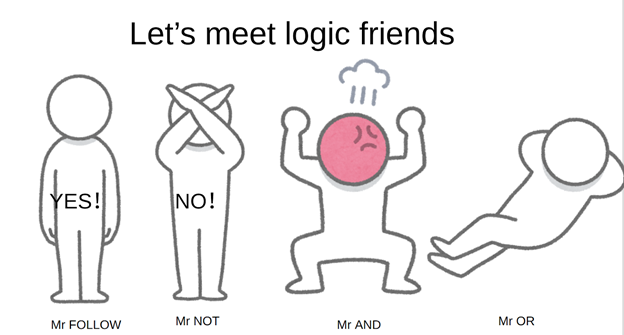 More Logic frineds